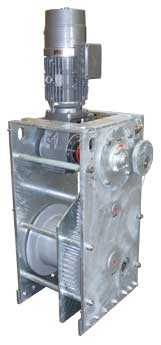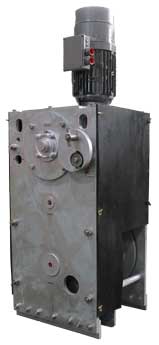 Features
Salt water package standard on all power winches.
Hot-dipped galvanized.
Stainless or silicon bronze fasteners.
3-ply conveyer belt covers (damage and corrosion-resistant).
3-tooth locking dog with large release and fail-safe disc brake.
Provisions for emergency manual operation with cordless drill.
NEMA motor design with cycloidal gearbox.
Control box option: NEMA 4X stainless steel.
Minimal maintenance and easy to repair.
Variable frequency drive option available. Amp draw limits, variable speeds, and motor protection.
Made as one model adjustable to true right or left hand models for use in pairs.
Over 100 fewer parts than other electric winches (no chain or sprockets).
Heaviest winch in its class.
30 Ton - 5 HP motor standard.
40 Ton - 7.5 HP motor standard.
50 Ton - 10 HP motor standard.
65 Ton - 10 HP motor standard.
Other line pulls and speeds available.
Back to Top